Neighborhood Comedy Theatre
Auditions
March 18th 2023
---
The Neighborhood Comedy theatre situated in the heart of downtown Mesa, offers an assortment of opportunities to improve your comedic abilities as well as a supportive community of like-minded individuals who are dedicated to creating art. We stage almost 300 performances, providing ample opportunity to take the stage. Whether your aspiration is to be a frequent performer or take part in only a couple shows a month, we can accommodate you. We meet Wednesdays to practice, rehearse, laugh and play.
In addition to performance opportunities, we have chances to participate in Paid corporate engagements, and workshops, and team-building events.
Current Performance Opportunities
The Main Street
Comedy Show
The Main Street Comedy Show is a delightful mix of storytelling and improv comedy that you do not want to miss! Each show features a guest Storyteller, and a performance in the spirit of an Armando show, with a Neighborhood Comedy Theatre twist.
If you know what all of that means, cool, if not, we will teach you.  This show happens weekly, and will give you a ton of stage time opportunities.
Previous Guests have included the mayor of mesa the former mayor of Tempe, Broadway actors and even a ventriloquist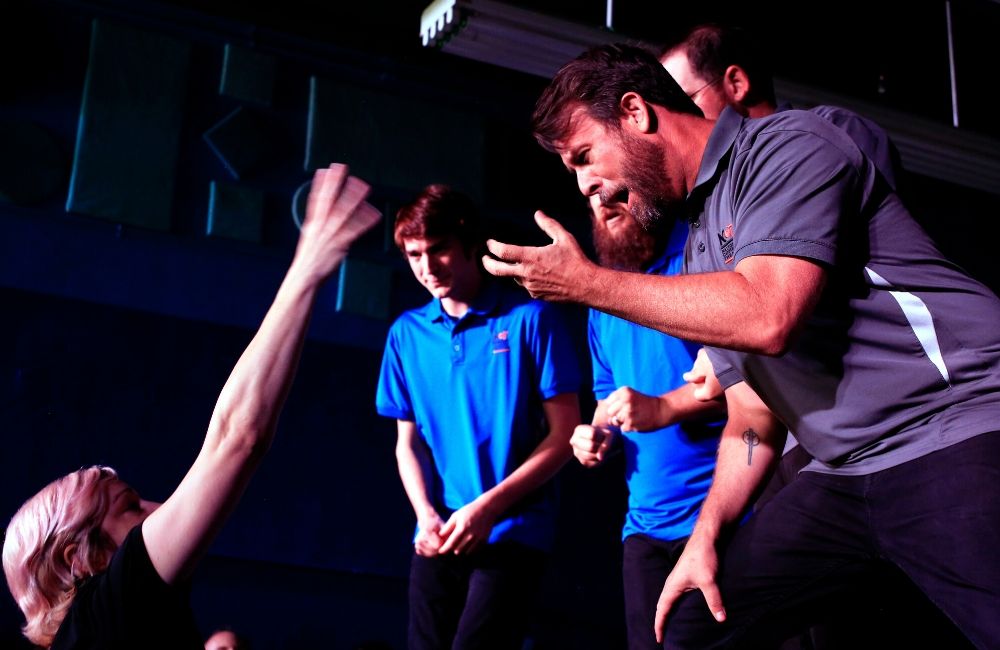 The Competitive comedy show
What sets our show apart is our focus on short form gameplay while also placing a strong emphasis on scene-work skills.
As a member of our ensemble, you'll have the opportunity to work with and learn from those who have been practicing for decades. You'll get plenty of stage time to practice and develop your skills, and you'll be able to participate in a weekly show that is truly unique in the valley. Whether you're a seasoned improviser or just starting out, this is an opportunity not to be missed.
Slightly Uncensored
 Comedy
The Last saturday of the month the Neighborhood Comedy Theatre's always incredible improv comedy gets "SLIGHTLY Uncensored" at 9:30pm. How bonkers does it get? Well….SLIGHTLY bonkers… This interactive improv comedy show is always totally fresh and completely spontaneous. No two shows are ever the same because they are all based on YOUR suggestions!
The Neighborhood Comedy Theatre's
Health and Safety Policies
Hello There Friends! We thank you for supporting these efforts as we endeavor to keep the laughs going responsibly! Responsible laughing… the wave of the future!
As of March 2022 Masks are OPTIONAL
NCT is taking all possible precautions. However, it is impossible to eliminate any and all risk. By attending an event your party agrees to volintarily assume all risks related to COVID-19 exposure and to reschedule reservation if you're not feeling well for any reason.
To learn more call or text
602.374.5638, visit nctphoenix.com or
Email [email protected]